The Ultimate Warrior.
Shit. Things just got fixed and now they're broken again.
The Ultimate Warrior was inducted into the WWE Hall of Fame on Saturday, made an appearance at WrestleMania on Sunday, then capped it off with his first Monday Night Raw appearance in 18 years. Then he died on Tuesday.
Here's a piece I wrote for the Camel Clutch Blog a few months back when I heard the news that Ultimate Warrior was being inducted into the HOF: http://camelclutchblog.com/is-the-ultimate-warrior-deserving-of-the-wwe-hall-of-fame/
It mostly dealt with looking at the issues between Warrior (his legal name) and WWE, which I won't go into again here. Long story short, everybody was surprised when this was announced.
And then it happened. And it was awesome. Warrior cut this awesome speech where he made it clear that the 2005 "Self Destruction of Ultimate Warrior" dvd hurt him, but that he was above letting that ruin this opportunity for himself, his family, and his fans.
If you own the WWE Network, you can go back and watch his speech. It will be included in the WrestleMania XXX 3-disk set, which will be released in the next month or so.
And then the big moment happened. Ultimate Warrior made his first appearance on Monday Night Raw since 1996. The familiar music hit and the crowd "popped" as they say in the wrestling business. At 54, Warrior didn't run to the ring like he used to, he instead walked slowly and savored what he likely knew was his last trip to the ring.
It was a nice enough moment seeing a suit-wearing Warrior come to the ring to cut a promo. Then, he pulled out the airbrushed trench coat he was known for. In a WWE faux pas, Warrior acknowledged the camera man, telling him to hold the microphone (WWE likes to pretend the camera men aren't there). Warrior then got a plastic "Warrior facepant" mask and put it on. He let out the trademark snarl/grunt he was known for. The Ultimate Warrior was back!
A random sidenote: at the end of the video, when Warrior takes the mask off the camera shows a crowd shot and you see a super-hot woman wearing a Mick Foley shirt. That's Mick Foley's super-hot daughter, Noelle. She's not the 5-year-old kid from "Beyond The Mat" anymore...
When I watched that on Monday night, it was just a cool homage to an old man's heyday. The Ultimate Warrior really was something huge for a short period of time. People look back at Warrior's career as being a failure because he was supposed to be "The Guy" for the 90's in WWE. Instead, he flamed out after a couple years and never realized his full potential.
The promo was originally a fun piece of nostalgia about how the character of Ultimate Warrior will live forever, long after the man behind the character is gone.
Let that statement sink in.
Here's the text of what he said:
No WWE talent becomes a legend on their own. Every man's heart one day beats its final beat. His lungs breathe a final breath. And if what that man did in his life makes the blood pulse through the body of others and makes them bleed deeper and something larger than life, then his essence, his spirit, will be immortalized. By the story tellers, by the loyalty, by the memory of those who honor him and make the running the man did live forever. You, you, you, you, you, you are the legend makers of Ultimate Warrior. In the back I see many potential legends. Some of them with Warrior spirts. And you will do the same for them. You will decide if they lived with the passion and intensity. So much so that you will tell your stories and you will make them legends, as well. Ultimate. You are the Ultimate Warrior fans. And the spirit of Ultimate Warrior will run forever!
It's just crazy. Warrior even announced at the Hall of Fame that he had signed a multi-year contract with WWE in an ambassador role. That was likely a "Legends Contract," which is exactly what Warrior described.
What makes this sadder still is that this year's Hall of Fame class was such a celebration of life. Two of the other candidates, Jake Roberts and Scott Hall, had been walking disaster stories for the better part of two decades. We've all likely seen the ESPN piece about Hall's life and Beyond the Mat helped turn Jake into a joke.
WWE had no choice for years but to distance themselves from the two. The two of them made a habit out of appearing at small-time shows in no condition to stand, let alone perform. There are tons of videos of them acting like fools on YouTube if you so choose to find them. The 1999 Heroes of Wrestling pay-per-view is a horrible example of Jake being fucked up on a huge stage.
And the reason I publicize those is to show the 180 that Jake and Scott have gone through. Both have been sober for the better part of a year. Both have turned their lives around with the help of fellow wrestler "Diamond" Dallas Page. DDP has been documenting Jake's progress and is making a documentary. The HOF induction was to be the climax of the film.
Honestly, at any point in the last 10 years, if we had gone online and the first news item we read was "Scott Hall found dead" or "Jake Roberts passes away" we wouldn't have been surprised. They were both that far gone that we were expecting it. In Jake's WWE dvd put out around 2005, he even mentioned feeling angry when learning of the death of other wrestlers. He said that Curt Henning, Hawk, and Big Bossman were such nice guys and why did they have to go before him?
And they both turned their lives around. Both dropped tons of weight and kicked their habits.
The 2014 WWE Hall of Fame was a story of redemption. Three people got new chances with WWE: Jake Roberts and Scott Hall after overcoming their drug use and The Ultimate Warrior, after mending fences with Vince McMahon and the WWE family.
Stephanie McMahon even tweeted this picture Monday night with the caption "Never say never."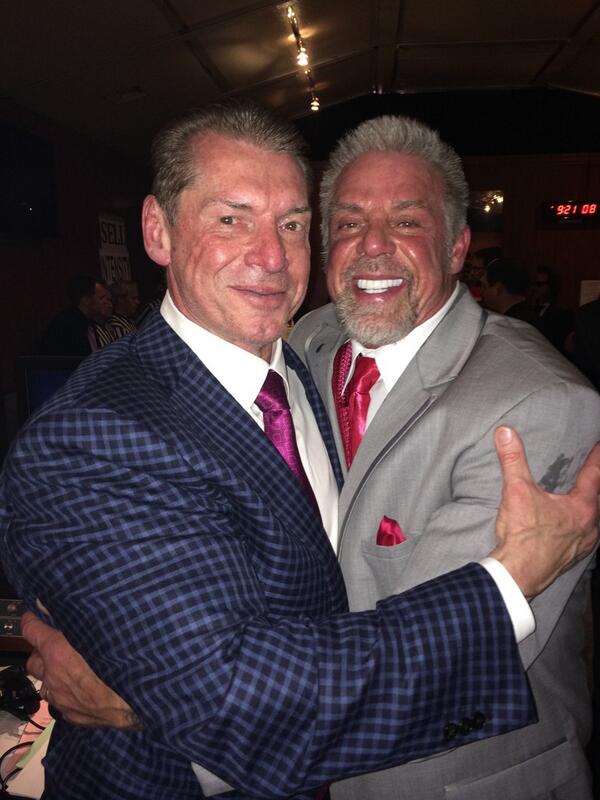 The lesson to learn here seems to be one that we keep learning over and over again yet we often forget: Don't take things for granted. Nothing lasts forever.
The Ultimate Warrior has breathed his final breath, but the spirit of The Ultimate Warrior will live forever.
Click here to see the trailer for the new Ultimate Warrior dvd that WWE recently released, which features an interview with Warrior.