TNA's upcoming "Slammiversary" pay-per-view is held each year to commemorate the anniversary of the first show in TNA history. This year's edition of the show will mark the 10-year anniversary of the number two wrestling promotion in the world.
To exist for 10 years, one has to do something right. And, as I have mentioned on here lately, TNA has done a lot right and looks to be currently doing several things right. But, over the course of 10 years, they have made some major mistakes. Some head-scratching, odd mistakes. Mistakes that make you think, "What were they thinking?!?"
This list is in no particular order. It's just 5 instances over the years where I feel like TNA dropped the ball with a particular storyline and talent. A talent went into a situation with momentum and left with people wondering where that momentum went. In a lot of ways, the people who are included on my list have yet to fully recover. And, most probably never will.
Part 1 of this feature looked at Frankie Kazarian turning into Suicide. Below is part 2.
AJ Style's association with Ric Flair
When TNA formed in 2002, they had two main groups of talent to pull from - WCW and ECW competitors who didn't go to WWE, and unknown talents. Mainstream wrestling fans don't know who unknown talents are, so in the beginning TNA pushed the known names.
AJ Styles was the first homegrown TNA talent to become a star in the promotion. He was a young kid, a high-flying sensation. He didn't have the greatest microphone skills, but he had a connection with the audience and people loved him. Well, in time. He started out as a cocky, brash heel. Then like most heels who do a good job, the audience respects you and cheers for you.
Another factor in AJ's favor was that after a while there was a slight backlash against TNA for using so many former WWE, WCW, and ECW wrestlers. The fact that some of these people were pushed ahead of Styles made the fans like him that much more. He became "their guy," and they waited for the day when he would become "the guy."
He had a few short reigns as TNA World Heavyweight Champion. He also had several reigns as TNA's X-Division Champion and a couple Tag Team titles. Right now, he has won the most titles in TNA history.
As 2009 was coming to a close, AJ Styles started riding another wave of momentum. He was the top guy again and was heading into a match at Bound For Glory against the TNA Heavyweight Champion, Sting. Sting, an Icon of professional wrestling. It was known that Sting's contract was coming to an end. People didn't know if he had resigned or not. People thought that perhaps this was Sting's last match and was going to be a passing of the torch to Styles.
That happened. Kind of. Styles won the TNA Championship. After the event went off the air, Sting got on the microphone and put over the new champion, saying that he wasn't sure if he was coming back, but that the company was in good hands with AJ Styles as champion. Ultimately, Sting did come back.
AJ Styles wins the title in October 2009. He's the top face of the company. He defends the title at the November and December pay-per-views. January 2010, the face of TNA changes as Hulk Hogan and Eric Bischoff arrive. As a surprise nobody saw coming, Ric Flair also debuts in January 2010.
Seeds are planted as Flair casually puts over the champion on commentary one night. The next week, he comes out to the stage as AJ is wrestling. Shortly after, AJ is involved in a match with Kurt Angle. Ric Flair comes out again. What follows is one of the worst mistakes in TNA history:
AJ Styles turns heel and aligns himself with Ric Flair.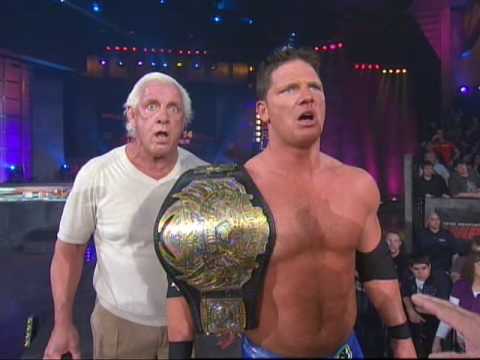 AJ Styles, 4 months into his World Heavyweight Championship reign, the top good guy in TNA, the "people's champion," to steal a phrase from The Rock. He turns heel. He becomes a bad guy. Not only does he align himself with "Nature Boy" Ric Flair, he transforms himself into "Nature Boy Junior."
He went from being the down-to-earth, fun-loving good guy that related to the common man of the audience, to a 2010 version of the "Limousine riding, jet flying, kiss stealing, wheeling, dealing son of a gun." That image works for Ric Flair. It didn't work for AJ Styles.
Gone was dressing like what he was - a normal 30 year old man wearing t-shirts and jeans. He suddenly came out wearing 3-piece suits. Despite the fact that he had acknowledged being married and had been seen wearing his wedding ring, he was suddenly seen cavorting with scantily-clad women.
Trying to become the bleach-blond Flair, Styles adds blond highlights to his hair. His promos had always been mellow and not overly boastful. Now, he's doing a second-rate Ric Flair impersonation. And not even a good impersonation like Jay Lethal could do.
AJ Styles continued as the Flair 2.0 for a couple months. He eventually lost the title to Rob Van Dam and basically turned into a midcard superstar. That is, until he turned face again and dropped the Ric Flair schtick. As we're approaching the halfway point of 2012, AJ Styles is back to where he was before the turn - a strong wrestler that the audience loves and respects. We just need to forget that his Nature Boy period existed and everything will be okay.